I-75 (16 miles) wins 2011 FTBA Best in Construction Award (Alternative Contracting)
On August 5, 2011, the de Moya Group was presented with the Florida Transportation Builders Association Best in Construction Award by FDOT State Secretary of Transportation Ananth Prasad, P.E.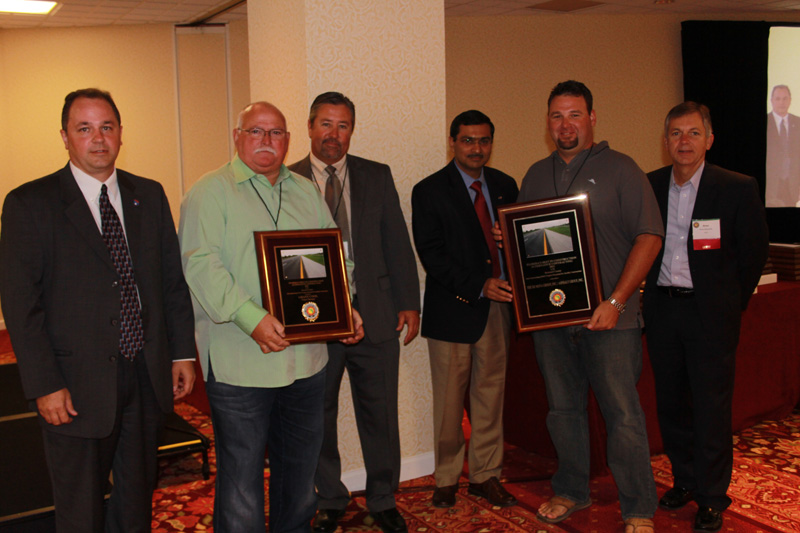 This $18 million, 16-mile resurfacing project in Broward County along I-75 (Alligator Alley) from MP 35.000 to a point west of US 27 (MP 18.870) included pavement restoration & rehabilitation, new signing & pavement markings, landscaping, expansion joint replacement on 22 bridges and upgrade of all existing call boxes within the project limits.
Even in this remote location, Asphalt Group, Inc. (a wholly owned subsidiary of the de Moya Group) was able to place 3.8 miles/ over 1,600 tons of asphalt in a single day and averaged 2 ½ miles and 1,400 tons of asphalt per day. This production rate was maintained throughout the thirty-two miles of asphalt placed (sixteen miles in each direction).
In addition, the maintenance of traffic during the paving operations was executed without incident, with limited disruption to the traveling public and with no construction related accidents.
The de Moya Group proposed changing the original designed inside shoulder widening (6 ft) pavement design from Optional Base Group-4 (4") Asphalt –Type B-12.5 only and one inch (1") SP structural course Traffic Level-C to Optional Base Group-5 (7") limerock base and one and half inch (1.5") SP structural course Traffic Level-C at no additional cost to the FDOT. This change eliminated multiple lifts of asphalt base and allowed for increased production with the use of limerock base. In addition, this modification created a safer workzone by reducing drop-off conditions. The FDOT realized a 50 calendar day credit for implementation of this proposal in addition to receiving an upgrade to the original base group design.
Thanks to Grant Cool, John Allen and Walter Brewer for making this project a success!