I-95 (SR 9) FROM ST. LUCIE COUNTY LINE TO N. OF SR 60 INTERCHANGE
Contract Type: Design-Build
Contract Amount: $54.4 million
Location: Indian River County, Florida
Client: FDOT District Four
Design Partner: Stantec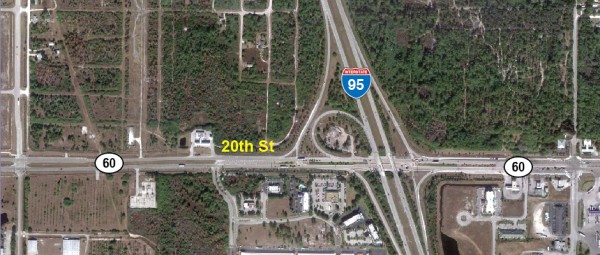 The project includes the addition of one lane in each direction of I-95 throughout the project corridor, milling and resurfacing of the existing mainline lanes, reconstruction of the SR 60 interchange, replacement of the mainline bridges at 90th Avenue, 4th Street and SR 60, construction of sound walls and ITS modifications. The de Moya Design-Build Team provided the best value and received the highest technical score on this $54.4 million project.
Project Features:
The de Moya Design-Build team produced several innovative solutions including;
Master Plan alignments for 4th Street/ 90th Avenue affording Indian River County to build the future corridor expansions at a reasonable cost. The realignment at 90th Avenue allows for the reduction of the bridge length and the skew presented in the RFP Concept Plans.
Modified mainline median widths through the reconstruction segments of the mainline at 4th Street, 90th Avenue and SR 60 to reduce/ eliminate throw-away work. The modified alignment simplified construction and Maintenance of Traffic (MOT).
Re-designed ramps at SR 60 to facilitate construction and reduce MOT phases, embankment, walls, and construction duration without requiring any ramp closures.
Developed cross slope correction algorithmic program with Geopak that optimized use of overbuild and readily identified trouble areas along the travel lanes and shoulders.
The de Moya Team was able to cut the proposed contract time nearly in half, reducing the project duration from 1,600 days to 850 days.