NW 25th Street Viaduct Project completes 126 days early and receives 2012 FTBA Best in Construction Award (Major Bridge)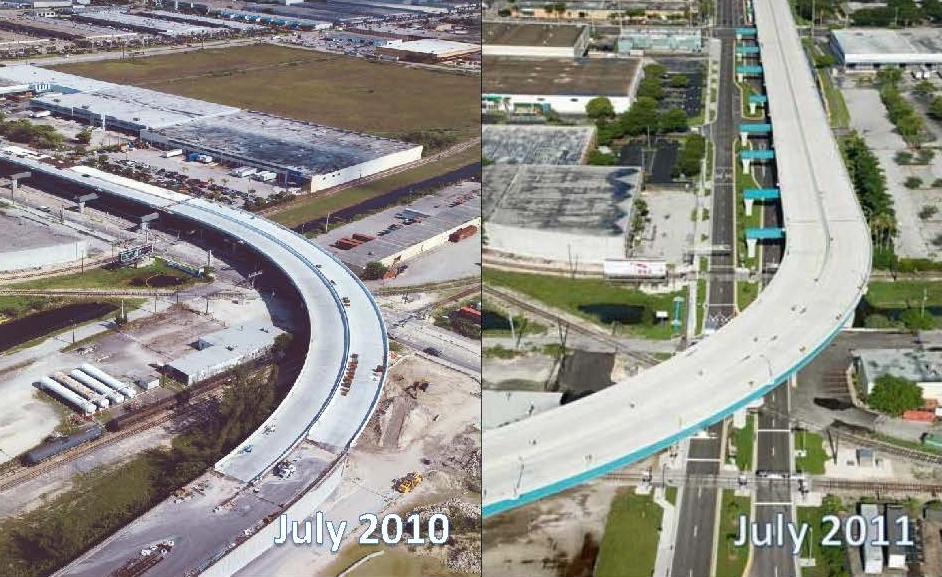 The NW 25th Street Viaduct project included the total reconstruction of NW 25th Street from the Palmetto Expressway (SR 826) to NW 67th Avenue, as well as an additional westbound lane from west of NW 70th Avenue to SR 826, a new connection to NW 25th Street at NW 74th Avenue, installation of new water and sewer mains, and new lighting and signalization.
The construction of the viaduct, mainly situated over the westbound lanes of NW 25th Street, began just east of SR 826 to NW 68th Avenue where it curves southward terminating at NW 22nd Street.  The structure is elevated approximately 30 feet.
Project Challenges included:
Approximately 2 miles of total bridge length, including twin mainline steel structures and ramp bridges.
67 bridge spans requiring more than 130 deck pours and 139 mass concrete pours.
Erection of steel straddle caps with weights up to 400,000 lbs.
21 million lbs. of structural steel was required for the project.
Avoidance of numerous existing utilities was required while building the pile foundations, underground drainage system, water mains, force mains, and gravity sewer lines.
Construction included seven large diameter culverts (up to 14 foot in diameter).
Coordination was required with an array of stakeholders (MIA, Miami-Dade County Public Works, City of Doral, DERM, SFWMD, as well as various utility owners (WASD, MCI, gas, jet fuel pipe line, FPL).
This complex project also received the Miami Dade American Society of Civil Engineers/ ASCE Miami Dade County Project of the Year Award (2011)!