SR 826 / SR 874 Interchange completes 167 days early, receives 2012 FTBA Best in Construction Award (Interchange)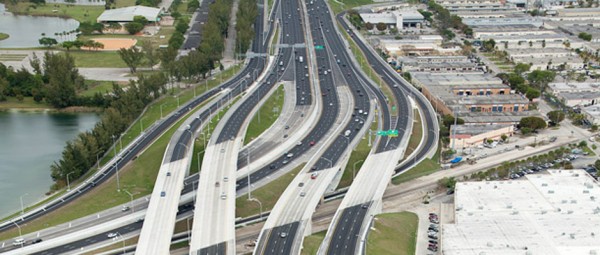 The SR 826 / SR 874 project is Section 2 of FDOT's 12-part Palmetto Expressway (SR 826) Improvement Program.  The $190 million project involved the widening and reconstruction of SR 826 and the reconstruction of SR 874, two Service Interchanges (SW 56th Street & SW 40th Street), one System to System Interchange (SR 826/ SR 874) and eight bridge structures, including four Category 2 major bridges.  Along SR 826 a system of collector-distributor roads was constructed to relieve congestion and improve traffic operations between the three closely spaced interchanges.  The interchanges at Bird Road and Miller Drive were reconfigured, and capacity was maximized at all ramp terminals and along the arterial roadways.  Eight new bridge structures were constructed including four severely skewed steel girder bridges over SR 874 and the CSX Railroad and four prestressed concrete bridges. Two of these prestressed concrete bridges utilized Florida I-Beam (FIB) girders, and the bridge over Bird Road was the first bridge to utilize FIB girders in the state.
During the selection process, the technical proposal submitted by the de Moya-Condotte JV received the highest technical score and provided a $53 million savings to the FDOT while at the same time improving traffic operations.  The JV Team's innovative approach entailed multiple bridges, side by side, with eight bridges that were 22 lanes wide, leaving not an inch of right-of-way to spare.
The de Moya JV Team completed the project in March, 2012, 167 days early and with a Final Contractor Past Performance Rating (CPPR) of 106.  As a JV Partner on the project, de Moya was directly responsible for over $110 million of the contract work.
For their exceptional performance on this project, the de Moya JV Team was awarded the prestigious 2012 FTBA Best in Construction Award (Design-Build).  Factors leading to the award include;
Innovative Construction Methods:    

First Florida I-Beam bridge structure in the state.
Design-Build team provided MOT enhancements throughout the life of the project to advance construction, leading to the early completion of the project.
Severely skewed steel bridges (max skew of 67 degrees) required complex deck pouring sequences.

Quality of Construction

100% of all concrete met the requirements of the specifications and the team achieved 100% success in complying with the mass concrete temperature requirements.
Average asphalt composite pay factor on the project was 1.04.

Other Factors

ITS and local agency extra work was added to the contract without an increase in contract time.
The JV Team achieved 11% DBE utilization and exceeded OJT trainee requirements.
The hard work and partnership of lead design firm (BCC Engineering, Inc.), CEI Consultant (New Millennium Engineering, Inc.) and FDOT District 6 were instrumental to the success of this project.